It's that time of year again, the Tony Awards. And like previous years, a glance at the roster of nominees could easily be mistaken for the Academy Awards. "Once," based on the Oscar-winning indie film is up against "Newsies," based on the Razzie Awards-winning Disney film, and "Leap of Faith," based on the Steve Martin Hollywood vehicle.
Yet, while there were plenty of Hollywood actors appearing on stage this season, the theatricality amongst a majority of these thespians is strong—Philip Seymour Hoffman, James Earl Jones, Linda Lavin, Stockard Channing, Audra McDonald, and Steve Kazee, to name a few. The Best Play category has even stronger theatrical roots, with imaginative storytelling in the barebones "Peter and the Starcatcher" and biting works including "Clybourne Park" and "Other Desert Cities."
There are some true gems in the mix this year, including "Once," which brings a gentle touch to an even gentler story, thanks to the direction of John Tiffany, and a melodious performance by Cristin Milloti. Luckily, co-star Kazee's initial reaction to the transformation from screen to stage—he has said he thought it "a terrible idea to make it into a stage musical"—was far from reality. It could be the indie hit that nabs the top award from Disney's equally strong "Newsies."
Disney isn't without my rallying support, however, although their role in my pick for best play, "Peter and the Starcatcher," could be overlooked when looking at the long list of producers attached to this play with music. They might not be pushing this as a Disney production, but it has all the magic that makes Disney legendary.
The Tony Awards telecast will take place on CBS tonight at 8:00 pm ET, and I'll be live blogging right here. Follow along on the blog or Twitter, where I'll be sure to keep the observations slightly snarky, as always.
LIVE BLOG:
11:04 pm

And the big award (best musical) goes to…"Once." Voters actually cast ballots with their hearts and not touring minds. A very deserving win for this delicate musical.

10:52 pm

Backstage…

Hugh Jackman: "I thought [my wife] was going to miss it because she was going to the bathroom. She hates public speaking, and she can never keep a secret. This is a miracle…I think this is he greatest show. Awards shows are often very heavy on awards, and I think the Tonys is big on show and not as much on awards, which is how I think it should be."

What makes you passionate about the stage? "That's where I began. That's where I fell in love with acting…I always go down, just after places is called, and listen to the buzz of the audience…magic can happen there. That's what I love."

"As an actor, my top 10 moments are definitely on stage. There's something magical that can happen on stage that rarely happens on film."

On the "Les Miserables" film: "I don't think I've ever quite received that kind of feedback from a teaser trailer before…so I could tell that it was genuine excitement. We're going for something risky…everything is sung live…every day I go to work it's like opening night. There's no post production. Everything is live."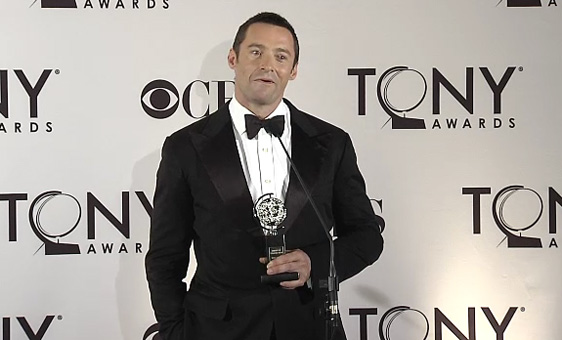 10:41 pm

There was an audible "OMG" from the press room as Steve Kazee won the Tony Award for his acting in "Once." But there were certainly tears, at least from me, as he gave a heartfelt tribute to his mother while accepting the award. She recently lost a battle to cancer.

10:22 pm

Backstage…

Christian Borle ("Peter and the Starcatcher"): "I have about another month with 'Peter and the Starcatcher' until I return to 'Smash.'

What's in his dressing room? "'Star Wars' posters and a full bar, because I'm an adult."

Did you feel a spark in the original incarnation of "Starcatcher"? "It's easy to look back and see the magic…what I felt was that I was involved in one of the best collaborations I've ever been in…then it was in La Jolla that I developed a friendship with Rick Elice (the writer)."

On "Smash": "I'm excited to see if we are going to write another musical," adding that he is "disappointed" with the recent cast changes on the show.

What was Michael Riedel like to work with on set? "He was very charming…he was great fun. We had a good time."
09:58 pm
@OnceMusical That was truly one of the most magical performances I've ever seen. I've been away so haven't seen the show yet. I can't wait.

— Anthony Rapp (@albinokid) June 11, 2012
09:55 pm

Backstage…

Alan Menken, winner for best original score for "Newsies": "It means a hell of a lot. I'm a New Yorker, born in Manhattan. So it doesn't get any better than this…it's really gratifying and humbling in a way. Every score is a different entity. When you get honored like this, it means something about the entire work has touched people."

Any plans on going for an Emmy? "Yes, I'm in training." (laughs)

From movie to stage: "As this generation grew up, everybody wanted to do a theatrical version of 'Newsies'…we started with the original writers of the movie, but it didn't really work well…coincidentally I was meeting with Harvey Fierstein at my house on something else…he doesn't even wait for a deal or instructions. He went home and started writing instantly…he's a really smart guy, he's a mensch, and he's a pro."
09:46 pm

Backstage…

Best scenic design of a play for "Peter and the Starcatcher" Donyale Werle: "It got easier once we got to Broadway. It was really challenging doing it downtown, on downtown budgets…the joy was that we got to expand it to fit the Brooks Atkinson…Disney was very gracious to let us go through the scraps from 'Little Mermaid.'"

09:36 pm

Backstage…

Judy Kaye ("Nice Work If You Can Get It"): "I'm overwhelmed. I didn't know I was going to feel overwhelmed, but I'm just bowled over. I'm very emotional about this. I don't remember a day when [my dad and I] didn't sing songs together…the american songbook was really important. That's what my parents listened to. I'm very grateful. It has enriched my life."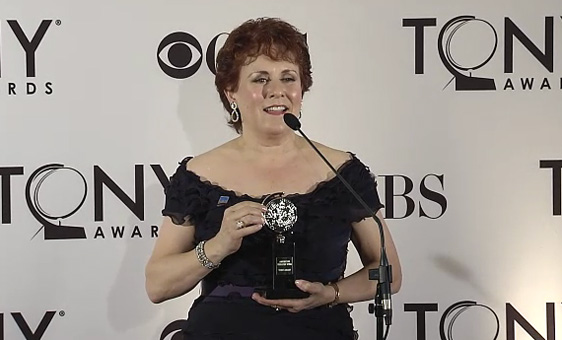 09:32 pm

Backstage…

Best costume design of a musical winner Greg Barnes ("Follies"): "I knew I shouldn't go into the chatrooms, but I do…we thought that when it came into New York, it was a chance to re-explore…I think I designed six Sally dresses, and they are all different."

09:23 pm

Backstage…

John Tiffany, winner for best direction of a musical for "Once": "I hadn't seen the film when I was first approached about it…so the first thing I did was download the album. Loved it…it took quite a lot of pushing to get [audiences allowed on stage] on Broadway, but we got there."

Did you consider making it an open bar? "I remember Alan Cumming saying, 'Is it a free bar every night?'…I would love it to be an open bar, but ask the producers if they would open it."

"I'm so glad I work in a medium that can't be digitized, because you have to walk into a theater and see it to experience it."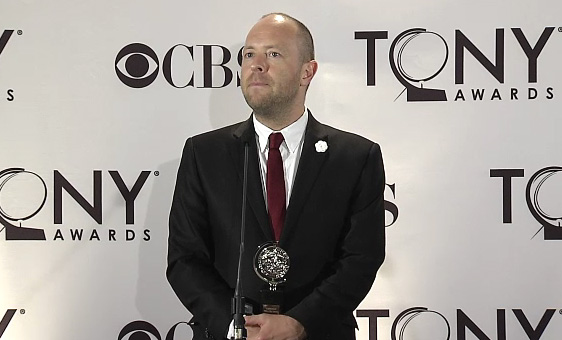 09:10 pm

Backstage…

Best costume design of a play, Paloma Young, for "Peter and the Starcatcher": "The actors play so many characters, and it's so fast paced…so I needed to make costumes that could be [everything]. And they couldn't change…[the mermaid costumes have] a crown made entirely of watches. A new addition for Broadway was the mustard container bra, a new personal favorite."

09:03 pm
Aghhhhh! Christian. Borle.

— Celia Keenan-Bolger (@celiakb) June 11, 2012
08:59 pm

Backstage…

Judith Light, best performance by an actress in a  play in "Other Desert Cities": "I have a few things [planned] that I can't actually talk about yet, but I have been designing a jewelry line…we're join to be previewing that on HSN in July." Okay…

Did she ever expect to see herself on Broadway? "I dreamed about it, but I never thought that it would happen…I didn't do this alone, this is a culmination of working with a group of tremendous people."
08:55 pm

More commercial break awards: best costume design for a play goes to Paloma Young and her work on "Peter and the Starcatcher"

08:50 pm

Backstage…

Christopher Gattelli, winner for best choreography for "Newsies": I paused coming here because I had to see them. That, for me, was the most important moment for me. That number, 'Seize the Day' is the same thing for those boys. It's those boys showing to the world what they can do. To have that number done in that room, that's all I needed for today."

On the newspapers used during every production: "Disney custom made these papers that are all original articles from the time…it's the actual World."

08:47 pm

Happy to see John Tiffany win for best direction of a musical for Once at tonight's Tony Awards. I'm particularly looking forward to him directing the National Theater of Scotland's Macbeth this summer at Lincoln Center Festival. One-man production starring Alan Cumming. Need I say more?

08:41 pm

Backstage…

Best performance by an actor in a featured role in a musical, Michael McGrath in "Nice Work If You Can Get It": "I was surprised. I didn't think I'd be here. The other nominees were so great…I just turned to my wife, and she said go."

08:35 pm

Another award dolled out during the commercial break. Best sound design goes to Darron L West for "Peter and the Starcatcher." I'm sensing a "Once" and Disney kind of night.

08:28 pm

The press room backstage has been a bit quiet lately…calm before the storm.

08:22 pm

Best sound design of a musical was awarded during the latest commercial break. Clive Goodwin picks it up for "Once."

08:17 pm

Did Newsies include a wee bit of another song during their telecast performance just to get Kara Lindsay on stage at the Tony Awards? I'm okay with that.

08:15 pm

Judith Light's role in "Lombardi" last year was my pick, but it's great to see her take home the Tony for "Other Desert Cities." Love that she got pulled up on stage for the Broadway transfer of this production. I'm still holding out hope that "Cities" pulls off a win for best play.

08:08 pm

Backstage…

Martin Lowe on "Once" director John Tiffany: "John doesn't see anything as a problem. He just plows on, knocking things out of his way…that is the most liberating thing…he trusted me. That doesn't happen often."

08:04 pm

Backstage at the Tony Awards

"Once's" Martin Lowe, winner for best orchestrations: "It's been one of the most gorgeous professional experiences. There was no screaming and shouting. There was no throwing things..it was a really beautiful experience."

08:01 pm

And so it begins. The Tony Awards telecast is live on CBS. Those "Book of Mormon" doorbell ringers are hitting up celebrity dressing rooms. I wonder if any "serious" mormons are watching…

07:58 pm

Backstage at the Tony Awards

Lifetime Achievement award winner Emanuel Azenberg: "Half the people I have been nominated, I have done 3-4 plays with. And the other half are mysterious newcomers…that talent has to have a place for expression. If they are dumb enough go into a life of theater, they have to have a place to celebrate that."

07:51 pm

And the love continues for "Once" as Enda Walsh takes home a Tony Award for best book of a musical. I'll be curious to see how many "surprises" there truly are tonight.

07:48 pm

The technical awards are currently underway at the Beacon Theater. No telecast, so make sure to follow along with #TonyAwards on Twitter for all the action. Thrilled to see Martin Lowe just take home an award for his orchestrations on "Once." And "Newsies" pulls in a win for best choreography. Love for both of my picks for the night.

07:38 pm

I wonder when the Tony Awards will become "popular" enough to garner red carpet attention from E! Entertainment. Will Lady Gaga have to be on Broadway?

07:22 pm

Gavin Creel is tweeting (@GavinCreel) away from Times Square tonight. Fantastic. Is Gavin's news about joining the national tour of "Book a Mormon" really a secret? Perhaps I'm too in the know. But, now the world, or at least the theater geeks watching NY1's red carpet coverage, are well aware. Great to hear Gavin give a plug to Los Angeles' Pantages Theater and the upcoming run of "Mormon."
diane paulus on the big screen twitter.com/gavincreel/sta…

— Gavin Creel (@gavincreel) June 10, 2012
07:15 pm

Kelli O'Hara is soon off to do "Far From Heaven" under the direction of Michael Greif. A great film. Will it translate to the stage? The creative team seems promising. Now, what about that rumor (ahem, Michael Ridel) about Kelli in a revival of "The King and I"? Either way, I stand by my claim that she is better off stepping away from "Nice Work If You Can Get It." zzzz….
07:05 pm

Despite a few live broadcast jitters, as in missed cues and flustered interview questions, I have to give NY1 credit for seemingly being the only television state to carry live red carpet coverage of the Tony Awards. NY1, a true New York institution.

06:47 pm

Josh Groban will be introducing "Once" during the telecast tonight, but he tells NY1 he'd love to perform on Broadway at some point. Is he looking for a project? "I wouldn't want to do anything unless I had the time to put into it. I'm looking to find the time…" YES PLEASE!

06:43 pm

Andrew Keenan-Bolger and Celia Keenan-Bolger, the brother and sister team starring in separate Broadway shows, are the true cute "couple" around town. Andrew just spoke with NY1 on the red carpet: "The fact that either of us get to be on Broadway at any one time is amazing…I'm so proud of Celia and she's been such  support of mine, as well. It's thrilling."
06:40 pm

NY1 is live on the Tony Awards red carpet, currently speaking with Harvey Fierstein of "Newsies": "To think that I'm part of this community is still a wonderful thing for me. The great part of creating Newsies is no one expected us to create anything worth putting it on. Disney told me not to do it. Disney told Alan Menken not to do it. We just wanted to write…I knew I had to be true to [the Fansies]…you have families screaming the theater every day and night. It's an amazing thing to know that we are turning on a whole generation to theater."